Alcohol & Drug Intervention - How To Help Someone With Addiction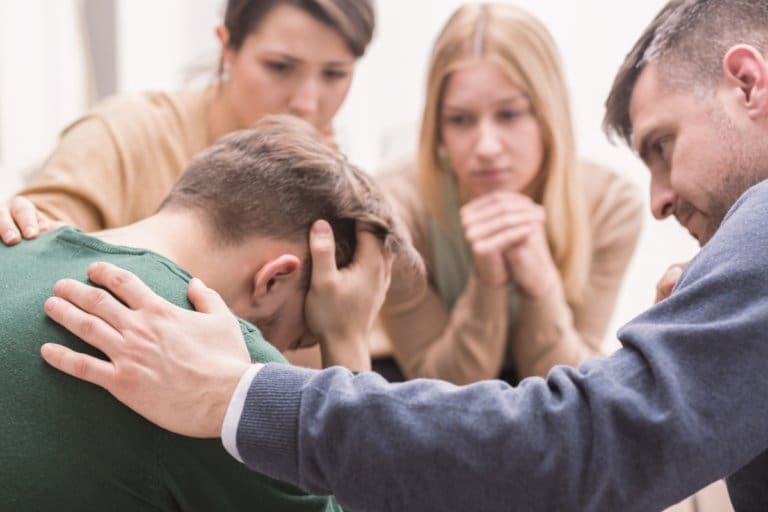 If you've ever watched a television show or movie about drug use or addiction, you've probably seen fictional representations of an intervention. These "surprise" meetings are often conducted by friends and family members of the person abusing drugs or alcohol. However, the truth is that these often misrepresent what real, effective interventions look like. For this reason, if you really want to learn how to help an addict, it is best to seek out the services of a professional interventionist.
But what is a professional interventionist? Does an alcohol intervention specialist differ drastically from a drug addiction intervention specialist? Finally, where can you or someone you love get the help of a trained, experienced substance abuse interventionist?
In today's guide, we will answer all of these questions and more, but first, let's take a closer look at what an intervention really is:
As the term implies, an intervention is an organized effort to intervene in a situation to solve a complex or sensitive problem. It is most commonly employed to help people abusing drugs or alcohol, as they often need the collective effort of those around them to recognize the extent of their addiction and take the necessary steps to achieve recovery. An intervention is usually composed of friends, family, and even coworkers who care about someone and want to work to help them overcome their addiction, ideally with the help of an addiction intervention specialist.
During an intervention, those closest to the person will discuss how the addiction has affected them. This provides drug or alcohol abusers with perspectives on how their behavior has negatively impacted people other than themselves. Such an eye-opening experience is often enough to push someone suffering from addiction to seek help.
While most interventions portrayed in media are a "surprise" to the afflicted individual, experts are increasingly moving away from this methodology. Nowadays, many addiction intervention specialists believe that a surprise intervention can be too overwhelming and can cause a negative reaction. Instead, it is sometimes recommended that someone close to an addict informs them that they are seeking the advice of a counselor or specialist about their substance abuse. Whether you choose to surprise someone with an intervention or you tell them about it in advance, it is best to get the help of a professional to help guide the discussion and encourage the person to seek treatment in an effective way.
Are Interventions Effective?
There is no way to guarantee that an intervention will be a success. In many cases, people suffering from substance abuse will not be able to reason clearly, even when it is obvious that drugs or alcohol are causing them harm. Consequently, an intervention is never a sure thing.
However, this does not mean that interventions don't work. Even if an intervention does not push someone to quit drugs or alcohol now, it may be a good jumping-off point to start the recovery process later. It allows friends, family, and others close to an addict to set boundaries, explain their perspectives, and lay out the negative effects and consequences of the person's addiction.
While there are relatively few studies that prove the efficacy of interventions, there have been various studies showing that friends and family are often reluctant to conduct them. This is because interventions are hard for everyone. It's not easy to confront someone you love about their destructive behavior, especially if you're unsure how they'll react. However, failing to address substance abuse for fear of the consequences will not make the underlying problem go away. Moreover, many smaller case studies have shown that the likelihood of a drug or alcohol abuser entering a substance abuse treatment program increases if they go through an intervention first.
How To Do An Intervention For Alcohol Or Drug Addiction
Though each individual reacts differently to the idea of intervention, you should never just wing it and hope for the best. On the contrary, you need to work with a professional interventionist to create a plan of action and prepare what you (and others) will say in advance. Generally speaking, the comments of loved ones should be based on personal experiences, but you should still aim to structure an intervention based on some of the tested models:
Field Model – The Field Model is a form of the "surprise" method, in which the substance abuser has no prior knowledge that the intervention will take place. This model requires the help of a trained interventionist and is recommended if family and friends are worried about unpredictable or even dangerous reactions.
Invitation Model – The Invitation Model focuses on the importance of a substance abuser's family and larger support network. Essentially, everyone who is important to the person is invited to thoughtfully discuss their perspective and talk about how the addiction has affected them with the help of an interventionist.
Johnson Model – The Johnson Model is the most familiar type of intervention, as it involves an interventionist and close family members confronting the substance abuser without prior notice. This model differs from the Field Model insofar as the interventionist does not necessarily need to be trained to handle more combative situations. It is recommended for individuals who do not pose a threat to themselves or those around them and are unlikely to respond to an intervention with violence or distructivly.
Tips On Making The Intervention A Success
It is extremely important to note that an effective intervention is not an impromptu opportunity to bombard an addict with guilt. Instead, it is an event that should be planned in advance and designed to address the specific needs and circumstances of the individual. This plan should not just focus on laying out the behaviors of the individual and their effects on others, though this is key to almost any intervention. An intervention should also include "next steps," including treatment options. This is one of the primary reasons that substance abuse professionals should be included in the planning and executing of an intervention to increase the chances of success.
The final goal of recovery should always be the primary focus when organizing an intervention. In the vast majority of cases, this means that friends and family should remember that they are attempting to persuade someone they care about to quit drugs or alcohol and enter a treatment program. Without this focus, an intervention could easily get derailed or fail to fulfill its purpose.
Lastly, you should always remember that interventions do not always yield fast results. It may take an individual some time to respond to the intervention and seek out treatment. Most people abusing alcohol or drugs will not be willing to check themselves into a rehab center as soon as the intervention ends. So, be patient, show empathy, and understand the difficult road that the person is facing.
How Addiction Intervention Specialists In Ohio Can Help
As you can see, every tested intervention model requires the help of a drug or alcohol interventionist. With the help of a trained professional, you can guide someone in your life toward recovery. Interventionists are trained to know the most effective methods to encourage treatment, de-escalate combative situations, and ultimately get the best results. If you are currently in need of an addiction intervention specialist to help someone in your life, be sure to reach out to our team at Prosperity Haven in Ohio.
Is someone you know showing signs of addiction? Do you believe that treatment for drug or alcohol addiction is the best solution to reach recovery? If so, feel free to contact the experts at Prosperity Haven to learn more we can help.
YOUR NEW BEGINNING
STARTS HERE
Take the First Step and Reach Out Today