1. TREATMENT FOCUSES ON MEN'S NEEDS SPECIFICALLY
When we look at the numbers, we see that men are at a higher level of addiction risk than women. [1] Men have higher rates of substance abuse and are more likely to take part in dangerous habits like frequent binge drinking. They start using drugs and alcohol at younger ages than women and are more likely to develop a substance abuse disorder. [2]
The reasons for these particular issues facing men vary and include everything from biological factors to histories of trauma, and targeting our treatment programs to address these issues in particular makes us a better resource for the men who trust us in their recovery.
2. ALL-MALE TREATMENT HELPS ELIMINATE DISTRACTIONS
It's easy to understand why mixing men and women in rehab can be the source of some distraction, and having people of opposite sexes share facilities can place emphasis on social dynamics — removing clients' focus on working on themselves and unpacking their addiction.
All-male addiction rehab removes sources of conflict, distraction, and jealousy, and allows clients to put more of their energy into focusing on recovery.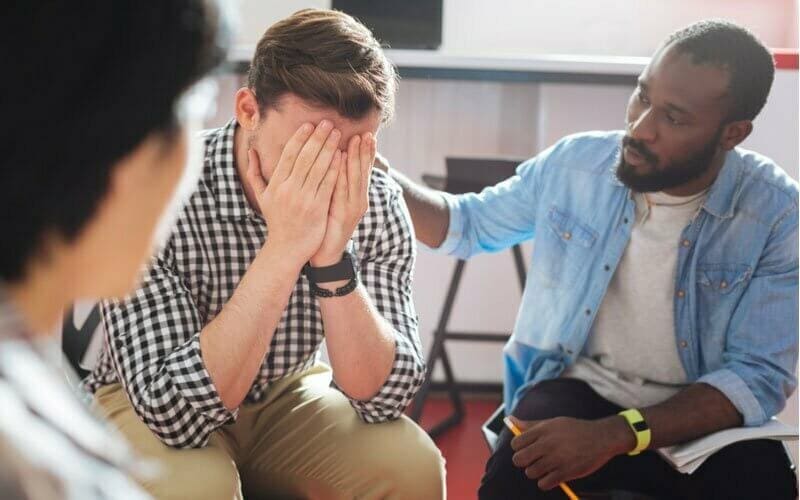 3. IT MAKES IT EASIER TO EXPRESS EMOTIONS
Rehab is a time to examine the thoughts, feelings, and motivations that lead people to this low point in their lives. This is a time for breakthroughs, where people in rehab are encouraged to be vulnerable without judgment.
While a mixed-sex treatment space doesn't necessarily mean that people who share will be judged, it does increase the chance that some people won't be able to effectively empathize with another group's perspective.
4. IT HELPS THE FORMATION OF A LIFELONG "BROTHERHOOD" IN RECOVERY
While the world is becoming more progressive and fluid, there's still an innate strength in forming a fraternal "brotherhood" in tight-knit communities, like what you'll find in a rehab environment. As men in recovery share their experiences, they can better relate to each other and form stronger bonds with their peers.
Having a support structure built up of similar types of people who understand what you're going through can give you a sturdier foundation on which to go forth into recovery and the rest of your life.
GENDER-SPECIFIC ADDICTION TREATMENT IN CLEVELAND, OH
For many, a male-only addiction treatment facility can provide a sense of comfort that just isn't present in a mixed community.
At Prosperity Haven, we use a combination evidence-based treatment and holistic therapies to explore our clients' needs in small, all-male groups. To learn more about how our addiction treatment programs in Cleveland can help you or a loved one find lasting sobriety, call 440-253-9915 today.