Ohio's Premier Addiction Treatment Center for Men
At Prosperity Haven, our treatment is based on a step-down model that guides you through recovery at your own pace. Although we encourage a longer length of stay, we know that no two clients are the same, and we're always willing to adjust our approach to meet you where you're at.
Our peaceful, all-male facility gives you a "retreat-style" experience, fostering community and brotherhood while our supportive clinical team works with you to address the root causes of your addiction and provide you with the tools you need to live a happy, fulfilling life in recovery.
Average Length of Stay — 2-10 Days
If you need to undergo detox to rid your body of harmful substances, we'll refer you to one of our affiliated detox facilities where you can regain the strength you need to continue your recovery journey at Prosperity Haven.
Around-the-Clock Medical Care
Withdrawal Management
Tapering & Comfort Medication
Safe, Comfortable Setting
Transportation Available
30, 60, 90-Day Treatment Tracks Available
Our Residential Inpatient program was designed to provide men with a comfortable, supportive environment where they can heal and develop the tools they need to achieve life-long sobriety.
Peaceful Residential Facility on 7.5 Acres
Individual Counseling, Group & Family Therapy
Holistic Therapies to Heal Your Body, Mind, and Spirit
Dual Diagnosis Treatment for Mental Health Disorders
A Brotherhood that Lasts Beyond Your Stay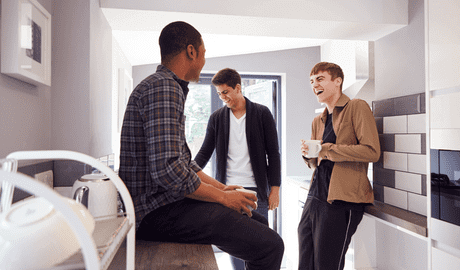 Partial Hospitalization (PHP)
Average 30 Hours of Programming Per Week
PHP provides the same intensive therapies as Residential programming, but with more freedom and a curriculum that focuses on adapting your skills to an everyday routine as you transition back into mainstream society.
Individualized Relapse Prevention Strategies
Coping Skills, Stress Management, Trigger Avoidance
Professional, Career-Oriented Skill Development
Strengthen Family Relationships & Support Network
Sleep at Home or in a Sober Living Facility
Telehealth Intensive Outpatient Program (IOP)
Average 10 Hours of Programming Per Week
Telehealth IOP is a less intensive, virtual program designed to help you stay connected with your counselor, peers, and case manager for support and guidance as you take on your career, family, and home responsibilities.
Online Recovery Support, Accessible from Anywhere
Flexible Scheduling & User-Friendly Video Chat Platform
Counseling, Therapy & Other Virtual Recovery Services
Confidential, HIPAA Compliant Applications
An Email Address & Phone/Laptop is All You Need to Start
Your New Beginning Starts Here.
A Few of the Most Common Insurances We Work With:
WHAT OUR CLIENTS SAY ABOUT US
"The staff here really cares about what they do, and they definitely go above and beyond what is asked of them. From the time I first walked in, I felt very welcomed and at home. This place felt like a brotherhood and I would definitely recommend it."
– D.M.
"As a parent all you ever want for your child is the best…Well I have to say Prosperity Haven fits the bill. I was encouraged to call with questions or concerns as often as I needed. I never was made to feel like a bothersome or interfering parent (my child is a 30 year old man). My child's attitude change after a week's time was amazing. He began to take accountability for his past actions. He started to develop goals for his future. I watched him thrive in the personalized attention given by this awesome staff. I thank God for these wonderful people and pray they continue to touch the lives of young men in need as they have touched my own child's soul."
– Parent of F.N.
The Prosperity Haven Experience
At Prosperity Haven, we're committed to helping you reclaim your life from the moment you walk through our doors, while still meeting you where you're at and allowing you to heal at your own pace. Our compassionate, supportive team and tailored programs focus on the unique challenges that men face in recovery, fostering community and brotherhood while addressing all aspects of your addiction: mental, physical, emotional, and even spiritual.
Our mission is in our name: we seek to provide those struggling with addiction with a safe and peaceful haven to support and nurture your recovery. Our secluded, spacious facility gives you a "retreat-style" experience, and our clinically driven, evidence-based, holistic approach allows us to customize your treatment plan to your individual needs, giving you the tools to help you live a peaceful and fulfilling life in sobriety.
© 2021 Prosperity Haven. All rights reserved.